Archive for the 'Racin'' Category
This past Sunday I once again was present for the running of the Coca-Cola 600 at Lowe's Motor Speedway in Charlotte, North Carolina. This represents the 19th consecutive time that I have attended the race with my Father and some close friends.
If you've never been to a NASCAR race, you really should go sometime -- it simply isn't the same on television as it is in person. I won't say that it is necessarily better (some people hate sitting in the stands to watch a race, just because of the crowds) but it is definitely different. I have attended races at a number of tracks, and I can honestly say that -- in my opinion -- the facilities at Lowe's Motor Speedway are about as nice as you will find. Furthermore, the entire atmosphere at LMS is geared toward being fan-friendly, and improving the experience of the common fan.
All of that aside, I have followed racing -- with wildly varying degrees of intensity -- for quite a while now. Things, however, have changed so much since I first became a race fan, that it almost seems like a different sport. Names, cars, colors -- pretty much from top to bottom NASCAR is nothing like it was back in the late 1980's when I first started watching the sport. In some ways it is surprising that a sport which proudly proclaims its dedication to "traditional" values -- and which often targets a politically conservative fan base -- would so embrace radical and unending change.
There is no question that, since the advent of the current television broadcast model used by NASCAR -- a 50% split of races between Fox Sports and ESPN / Speed (previously with NBC Sports) -- racing has been propelled from the second tier of sports to one of the mainstays. Whether that is tied to the increased coverage, or vice versa is open to debate. Either way, the drivers and teams are no longer just "average joes" who like to speed on Sundays, but maintain an otherwise fairly normal existence during the week. The drivers of today are superstars and command a following which rivals that attributed to many professional sports teams.
So too, gone are the sleepy little racetracks sitting idly by in a cow pasture in the middle of nowhere. The tracks of today are gigantic motorsports super-plexes which seat ridiculous numbers of people and define the surrounding landscape in a way which surpasses even the great "temples" of college and professional sports. Lowe's Motor Speedway, for instance, seats a whopping 167,000 people (almost twice the size of Neyland Stadium) in an arc surrounding its 1.5 mile quad-oval track. The entire track is lit by 1,200 light fixtures, allowing night racing. The main garage is over 20,000 square feet. In addition to the main track, the facility includes a dirt track, a 2.5 mile road course, and will soon include an drag strip intended to host NHRA events. On top of all of this, it includes two towers of condominiums above the first turn, which serve as year-round residences as well as race day event locations, and a bevy of luxury suites.
Lowe's Motor Speedway and First-Turn Condo Towers Illuminated by 1,200 Light Fixtures
During the weekend of the Coca-Cola 600, more than 200,000 people crowd into the speedway area, plastering the colors and banners of their favorite drivers on everything they can find. The festivities surrounding this Memorial Day classic include every type of marketing event imaginable -- including the erection of temporary structures and tents on every piece of bare land around. The sheer volume of cars that show up to the races is staggering -- on more than one occasion, it's been damn frustrating for me to try to find my car amidst the 50,000 other ones parked all across the landscape. Needless to say, the Coca-Cola 600 is a big deal to that area, and brings a lot of money into the local economy.
Oh yeah, did I mention it occurs only 7 days after the NASCAR All-Star Race (formerly "The Winston") also run at Lowe's Motor Speedway...
When I first started attending races, they began like ... well ... a race. Now, however, they are more akin to a rock concert. The pre-race events include flyovers by military aircraft and mock-military exercises on the infield grass area along the front stretch. This is followed by driver introductions which focus on a gigantic themed stage situated athwart the Start/Finish line.
This is merely one instance -- the same is repeated at tracks which, now, span the country...
"Fake War" in the Infield Before the 2008 Coca-Cola 600
NASCAR has become big business, and a serious threat to the three-way dominance of the American sports landscape by Football, Basketball, and Baseball, but does it have staying power?
In relative terms, NASCAR is fairly young when compared to the NCAA, NFL, NBA, and MLB. It was founded in the 1950's, and was extremely marginal as a sport until it became affiliated with R.J. Reynolds Tobacco Co. in 1971. It was at that time, the premier NASCAR series became known as the Winston Cup. That affiliation singlehandedly gave the sport a boost into the realm of respectability, if not widespread acceptance. Within only 8 years, NASCAR would transition from an intensely regional sport to one important enough to warrant the flag-to-flag broadcast of the 1979 Daytona 500 on national television. This hardly seems like a that big of a deal today, but in 1979 the vast majority of American households still only received 3 television channels, and for an entire Sunday afternoon that year, NASCAR racing represented 1/3 of the viewing choices. While this quantum leap was massive in the motorsports world, it was ultimately overshadowed by the eruption of a post-race fistfight in the infield between rival drivers Donnie Allison and Cale Yarborough. In the aftermath, many wondered if NASCAR was really ready for the mainstream, or was too grounded in its "outlaw" reputation.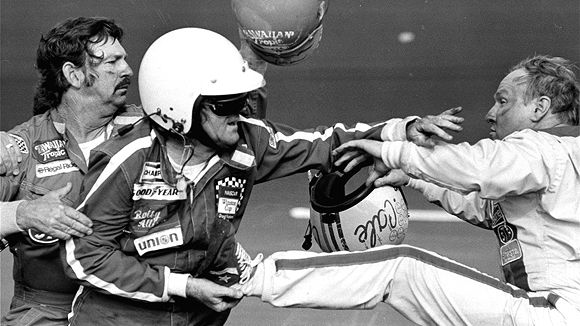 Allison and Yarborough Pounding the Hell out of One Another at the Conclusion of the 1979 Daytona 500
Be that as it may, the publicity from the 1979 Daytona 500 was huge and provided momentum for growth. NASCAR slowly began making strides throughout the 1980's largely due to the fact that ESPN -- then locked-out of NFL broadcasts -- realized that they could grab some viewers by broadcasting NASCAR events. More importantly, ESPN found a way to broadcast the races in a way which didn't give viewers motion sickness, and made the races all the more exciting. This led to a steady increase in the number of NASCAR fans across the country, and began the transformation of the sport -- born of moonshine runners in South -- into a legitimate and respected motorsports series. The crowning moment in this change occurred when R.J. Reynolds said goodbye to motorsports and Nextel (now Sprint) stepped in to sponsor the top racing league sanctioned by NASCAR.
I have seen some of this change firsthand. In just the last 19 years that I have attended races in Charlotte, the entire face of NASCAR has changed. To say that the average fan in the stands is different is a mild understatement. While no "review" of the composition of a fan base can ever be completely accurate, it is definitely fair to say that the present-day attendees of a race in Charlotte are both richer (or at a minimum willing to pay a great deal more for a ticket than in the past) and far more diverse.
In 1988 when I first made the trek to, then, Charlotte Motor Speedway, the average fan was a white Southern male. Back then, there were general admission seats available under $20.00, and the prime front-stretch seats were in the mid-$40's to $50's per person. A significant proportion of the fans at the race -- and I am not trying to stereotype here, so don't kill me (hell, I was there too so -- at a minimum -- I'm guilty by association) -- were the sort that liked to go without a shirt, make catcalls at the few women who walked by, were not above wearing an empty beer carton as a hat, had to "sleep off" the race for several days thereafter, and all of the other stereotypical archetypes one would associate with racing in that era. I saw all manner of bad behavior at those events: the ridiculous (bordering on super-human) over-consumption of alcohol, bare-knuckled fights, rampant throwing of objects in the stands, every imaginable act related to bodily function (excluding teeth-brushing), and everything in between (including one drunk guy's run-in with a sink in the restroom which I simply refuse to recount here). From the time the gates opened until the last of the drunks were thrown off the property, it was a free-for-all, and law enforcement was definitely there for a reason.
Let's just say they don't call the front row of the grandstands "Chickenbone Alley" for nothing...
In contrast, at the race I attended this past weekend there were probably more women present than men (No, I didn't do a survey, but it has seemed that way for a while now). Every year, there are more ethnicities represented in the stands. On the whole, most of the fans that attend these days seem to behave themselves very well and -- at worst -- get a little tipsy and maybe yell a few words every now and then at the car they despise (not like anyone can hear them with the roar of the engines anyway). In reality, the stands look more like what you would expect in Neyland Stadium on a football gameday than they do like the rough-and-rowdy race crowds of old. There are as many polo and golf shirts as there are T-shirts, and the "shirtless motif" has faded substantially. Some would say that this is a sign of race fans maturing and evolving. More likely, however, it owes to the fact that with the genesis of broad television coverage, NASCAR realized it could raise ticket prices -- and boy have they raised them -- thereby pricing a lot of folks out of the stands.
The same 4 seats that used to cost my Father $244.00 now cost $440.00 -- $110.00 a piece. Now when you factor in my donation to Tennessee's VASF, the cost of my season tickets in Knoxville are in line with this, but Neyland Stadium -- even at its worst -- was never like the speedways of a generation ago, and was never as "financially accessible" to some fans as those races of old were. The fact is that the cost of going to a race has now become cost-prohibitive for many fans. On one hand that is probably bad -- essentially amounting to turning on those who brought you to the dance. By the same token, there really is no question that the races of today are far more enjoyable for most fans in the seats, now that they are a little more civil.
Does that make me an uppity redneck?
NASCAR has "grown-up" as a sport, and its fanbase has had to grow-up some as well. I am sure there are a lot of folks who got priced-out of the game who never did anything to cause any problems and were very respectful of others in the races of the past, and it is a shame to see them effectively removed from the equation just because they don't make a lot of money. Still, there has been a very definite positive impact of the increased cost in terms of fan behavior and the general environment surrounding the event.
The only issue which makes me wonder if this hey-day for NASCAR can last could be summed up best in the following axiom: "Those that have the ability to choose, sometimes, do." In other words, fans who have the ability to plunk down in excess of $440.00 for 4 tickets to a race also have the ability to choose to spend that money elsewhere -- whether it be baseball, basketball, football, or tiddly winks. NASCAR is still "new" to many of the fans of the present generation. When it is no longer new, will they still pay to see the show? College Football -- my pernicious addiction -- has tradition and connection which keeps me coming back for more. No matter what happens, Tennessee will always be my alma mater. The same is not necessarily true for race fans. Will they continue to shell out the big bucks 10 years from now?
If so, then NASCAR will effectively cement its position as the premier motorsports series in the world, and will ride that wave to great success for the long-term. If not, then NASCAR may be in for rude awakening as it tries to re-acquaint themselves with the fans it scorned for cash and respect.
Either way, I'll still be in the Ford Grandstand, just up from the flagman's stand at Lowe's Motor Speedway, watching the drivers' cars go fast, turn left, and run into stuff ... and will still be praying that I can find my car when it's all over.
---
Images Courtesy of: ESPN.com (Allison & Yarborough) • Wikipedia (Panoramic Shot) • Lowe's Motor Speedway / Howard Hinson (LMS "Fisheye" Shot, Traffic, & Kasey Kahne Victory)