Five Reasons I Hate Alabama
Of Course There's More Than Just Five…
As a current student at the beloved University of Tennessee, I guess I fit into that whole "new breed" of Tennessee fan. You know, the one that woos in Rocky Top (click here for all that) and hates Florida more than anything else.
While my hatred for the Gators is obviously high, I've gone and accepted the fact that the Vols just can't consistently ever beat Florida. I hate Georgia quite a bit as well thanks to my venture down to Athens my freshman year (2006). It's pretty much those three and a gap to everybody else, at least in terms of my SEC hatred. However, as I realized it's Alabama week and Tennessee's 0-for-2 against the aforementioned teams I hate, I came to this conclusion:
I really really hate Alabama the most.
To crush any hopes they have of an unbeaten season would be the highlight of this otherwise awful, painful football season. So, in an attempt to fire myself – as well as you, the faithful readers here at Gate 21 – up for Saturday night's showdown, here's my five major reasons I hate the Alabama Crimson Tide…
---
1. Alabama cheated/cheats and blames Phil Fulmer for it.
Obviously, cheaters never prosper. It's funny that Tide fans hate a man who was simply doing his civil duty. Not only that, but it wasn't like any other SEC coaches weren't behind Fulmer's turning in the cheating Tide to the NCAA.
Of course we all know well Alabama's history of cheating. It's hilarious to me that they get caught. Look, "helping out recruits" goes on plenty of places. Remember, it's only cheating if you get caught. It's much like speeding down I-40 between Knoxville and Memphis for me…
The outward excuse of the Tide fans for hating Fulmer is of course his part in turning them in. I think it's much deeper than that. I know Alabama's won two of three, but Fulmer has a great record against them. Either that or they deny that there was ever any cheating was done…
2. "Got Twelve?" t-shirts and Houndstooth apparel…
I actually saw some guy in TRECS – that's Tennessee's rec center for students (it's WAY nice) – with one of these on, which reminded me of this. It's so typical of an Alabama fan: it involves lying/cheating, since the Tide (a) haven't won 12 legitimate national titles and (b) it involves living in the past. In my lifetime, Alabama has been a middle-of-the-road SEC program, much like Tennessee is becoming, sadly enough.
I remember the Tide losing to Northern Illinois and Central Florida. I remember their 1997 loss to Tim Couch and Kentucky. I remember beating them 9 out of 10 years. One of my earliest Tennessee memories was the 1995 rout in Birmingham (below = owned). They've had something like seven different head coaches in my lifetime.
The houndstooth crap goes right along with it. Houndstooth reminds Bammers of the Bear Bryant days, when they were relevant (I will state the obvious that they are becoming relevant again…crap). Hats, shirts, Bear Bryant hats – it makes me sick.
And of course there's those two Bammer fans with the toilet paper/Tide box on-a stick. I wish I was them, they are so incredibly cool…I hope I see one in Knoxville Saturday so I can laugh at them…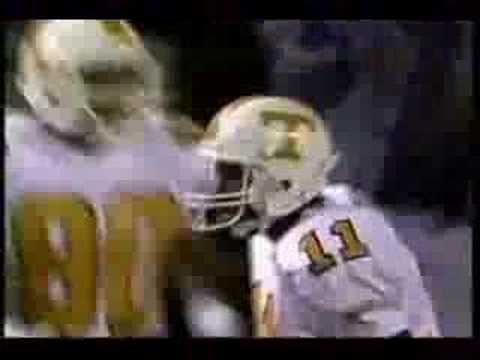 3. 2006
Flashback time. Third quarter, underdog Alabama has just scored thanks to a "catch" from D.J. Hall to take a 13-9 lead on Tennessee. Ensuing kickoff, LaMarcus Coker gets tackled along the far sideline from me, and doesn't get up. Turns out it was a knee injury that took him out of the game.
During the injury timeout while Coker is being tended to, the stadium is quiet as it usually is for injuries. That is, until the Bama fans start get their stupid "Rooollll Tide!" chant going. While a Tennessee player is hurt. That's class, folks. Hell, even the Georgia fans were quiet when Jason Allen was nearly cut in half by Leonard Pope the year before, and I don't know if I've actually ever met a classy UGA fan.
If you saw the game or were there, you of course remember the UT students' response: a loud, resounding, lengthy "F*** You Bama" chant that had to be heard on CBS. Tennessee went on to win that game, and I wasn't nice to any Bammers I saw afterwards – old people, women, adults, anybody.
4. 2005 and 2007
I've made two trips to Tuscaloosa in my life, for both of the past two Tennessee games. The 6-3 loss in 2005 was the one that really doomed the rest of the season in my opinion, since Tennessee did everything but win that game.
Cory Anderson's fumble happened in the end zone right in front of me. I thought it was six and bye-bye to Alabama's then-unbeaten record. Of course, shortly after that, Brodie Croyle – how he was still alive after the beating he took that day I'll never know – throws a prayer to Hall which sets up the game-winner.
As tough as that was, last year was worse. Here's why: the Firehouse Subs right by Bryant-Denny screwed my buddy out of his sandwich, making us nearly miss kickoff; the game was at freakin' 11:30 in the morning; our seats sucked; our coaches forgot how to coach; we lost 41-17.
Unlike '05, you don't have to deal with the stupid Bammers when you leave with 10 minutes left in the game as opposed to right after a close one. The loss appeared completely catastrophic at the time, but even looking back it's still bad, especially after having been to Gainesville earlier that year for the 59-20 beating the Vols took…
5. And finally, as a result from Reason #4, that stupid Rammer Jammer chant.
It's still ringing in my head. For as stupid as Ole Miss' Hotty Toddy is, this Bammer chant sucks so much more. I heard it nonstop leaving BDS in 2005 and I could hear it during the long walk from the nosebleeds through the parking lot last year. If I have to hear this crap ring through Neyland Stadium late Saturday night, I'm going to become really belligerent.
Of course, I can't not post this YouTube video of this Alabama fan hating on Tennessee. I laugh every time I watch it, and I know it's old and cliche, but I feel compelled to post it, if, for no other reason, than the feelings are reciprocal…
Well there you have it. There's of course plenty more reasons I hate the Crimson Tide (an Elephant? Seriously?). I hope Smokey bites another Tide player in warmups, as he did to Mike McCoy (who's still playing, actually) in 2006. I absolutely cannot wait to boo them Saturday night, and I hope and pray we miraculously dominate them.
Of course I'm leaving some out, so I encourage you the reader to leave some comments with your own reasons for hating Alabama.
---
---
About the Author:
 I'm from Memphis but I'm now entering my third year at the University of Tennessee here in Knoxville. I am majoring in Journalism/Electronic Media and hope to go into sports broadcasting/writing/something like that. I'm a huge Vol fan and have been going to games for as long as I can remember. I started my on blog called "The View From The Hill" but moved here to Gate 21 for bigger and better things. In addition to my passion for Tennessee football and basketball, I enjoy watching the NFL and the NBA as well. Basically, sports are a big part of my life.
>> Read more from this author
Categories: Bad Behavior, Bulletin Board Material, Cheating, College Football, College Sports, Flashback, Funny, Great Games, Ramblings, SEC Fans, SEC Football, The View From the Hill
21 Responses
Additional comments powered by BackType